Website Info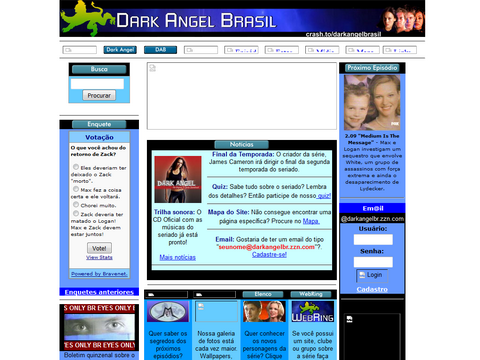 Description:
According to the site:
Dark Angel Brasil was created on November 27, 2000 with the intention of being a place where Dark Angel fans could meet and discuss the series. On that day was founded the Dark Angel Brazil Club that today is called Dark Angel Group Brazil. The Dark Angel Brazil family grows every day and we are always trying to improve the quality of our services. Dark Angel Brazil (DAB) is divided into multiple websites/links.
More info on DAB menu.
Note: Archive found might be long to load. Images use in navigation bar are broken but still working. The pages are NOT empty, select all page (ctrl+a) to see white text when written on white background!
│█║▌│ █│║▌ ║││█║▌ │║║█║█║▌│ █│║│ █│║▌ ║││█║▌ ║ │║║█║█║▌│ █│║│ │║║█║█║▌│█║▌│██║▌║▌█║▌║▌│
Comments: